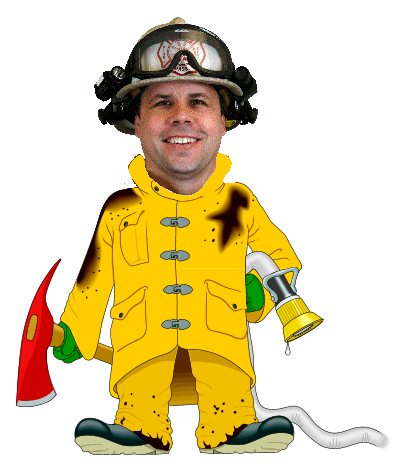 Your Carver Fire Department is a goal-orientated organization that prides itself in providing a superior level of service to our community at the lowest possible cost to each taxpayer.
The mission statement of the Carver Fire Department is "To be a leading Emergency Service Organization by meeting or exceeding the needs of our community in Fire Prevention, Fire Suppression, and Rescue Operations" and has become the benchmark from which our goals are derived each year.
Last year, one of our goals was to seek creative methods of funding for essential equipment and facility needs.  Two of the more significant items being interior and exterior renovations of our North Carver Fire Station, interior renovations of our South Carver Fire Station and a major rehab of our maze building located at our Training Facility in the center of Town.  Firefighters donated their time and materials to re-landscape the exterior of Station 2, while at the same time, Firefighters worked for several days to epoxy paint the apparatus floors inside the Station.  Firefighters from our Station 3 in South Carver also worked for several days to epoxy the apparatus floor and work on improvements inside Station 3.
This winter, a Team of Firefighters spent over 300 hours of donated time to completely rehab our training maze building located at our Training Facility in the center of Town.  Firefighters  completely gutted the building, reframed walls, painted the interior, designed and built maze training structures, all to provide our Firefighting team a great training opportunity for years to come.  As the Chief of the Department, I am very proud of the continued unselfish dedication our Team provides to the community!
The Carver Fire Department continues to be one of the lowest funded Fire Departments in the Commonwealth, at an annual cost of $447,000 or about $37 per resident. The dedication of our 75 member team is at the center of our flourishing Call Firefighting System that was nationally recognized in 2008 as showcased in Firehouse Magazine, a National Fire Service periodical.  Our system has been used as a model for several Fire Departments across the country, something that we can all be proud of.
BLIZZARD OF 2013
With the help of your Firefighters unselfishness efforts, during the most recent Blizzard of 2013, roadways were kept open for emergency vehicles, ambulances were escorted to and from hospitals transporting patients, fires were extinguished, people were comforted and lives were saved!
During the Blizzard, and as a TEAM, Carver Fire responded to over 70 separate fire incidents, including 3 structure fires, 3 mutual aid Engine and Tanker requests, 12 assist the ambulance calls, transports of people to the emergency shelter, numerous trees on homes, wires down calls, electrical fires, chimney fires and many calls for help to keep roadways open.
As a TEAM, over 60 Carver Firefighters answered the calls for help from our residents.  Firefighters were distributed throughout the Town, operating snow plows, assisting at the High School shelter, working at Carver EMS, staffing our Public Safety and Fire Dispatch Centers and fighting fires.  Your Firefighters tried to help everywhere!
Our Department utilized 14 pieces of fire apparatus, making sure that not one call for help went unanswered.  Thankfully, not one our Firefighters reported any injuries while facing adverse conditions on every call they responded to
MILESTONES OF 2012
We continue to write and secure additional grant funds for replacement and additional equipment, securing 33 grants for over $830,000 in grant money for FY 06 – FY 13.
By design, we continue to be one of the lowest funded Firefighter Departments in the State, ($37/resident) with 1.3% of Town budget being directed to Fire Department.
Our Firefighters completed in-house rehab of our Rescue 2 Command / Dive / Rehab Vehicle donated by Carver EMS.
We completely revamped our Fire Department web site.
We successfully hired and trained four new Carver Firefighters.
We continue to be nationally recognized as a model for other Fire Departments across the country.
We continue to have one of the highest ratios of Nationally Certified Firefighters, Fire Officers and Fire Instructors of any Fire Department in the Commonwealth. Currently, we have 54 Firefighters certified to Firefighter I/II, 21 Fire Officer I, 13 Fire Officer II, 27 Fire Instructor I, 2 Fire Instructor II and 14 Fire Safety Officers.
We successfully manage and maintain a Professional Call Firefighting force that excels in regards to manpower for the critical daytime responses. We successfully maintain our Departments Daytime Call Firefighting force, averaging a 5.4 minute response time with 17 Firefighters on scene.
We continue to give minor facelifts to our Stations 1, 2, 3 and the Training Center at a very minimal cost. New side entry doors were installed at our Station 1.  Firefighters donated their time to re-landscape and epoxy paint the apparatus floor at Station 2.  A new roof and gutters were installed at our Station 3.  Our Training Center Team donated over 300 hours of time and materials to completely rehab our Training Facility Maze Building.  We built and installed a dumpster fire and car fire simulator training prop and did an overall cleanup of the training site area.
We successfully implemented several programs in an effort to remain proactive in the Recruitment and Retention woes that are plaguing Fire Departments across the nation.
We consider ourselves to be innovators of training. We continually explore and employ cutting edge practices in an effort to remain ahead of the curve in regards to training and personal safety.
We educated a record number of school children and Town residents in the subjects associated with Ice Safety, Fire Prevention and Home Safety.
We successfully managed a Rapid Intervention Committee, Wage and Benefit Committee, I AM RESPONDING Committee, Photo Team Committee, Fire Station Committee, Brush Breaker Design Committee and Accountability Committee. All of these Committees are all TEAM oriented and focused on staying proactive in maintaining a Call Firefighting System.
Craig F. Weston
Fire Chief
Eric P. Germaine
Deputy Fire Chief