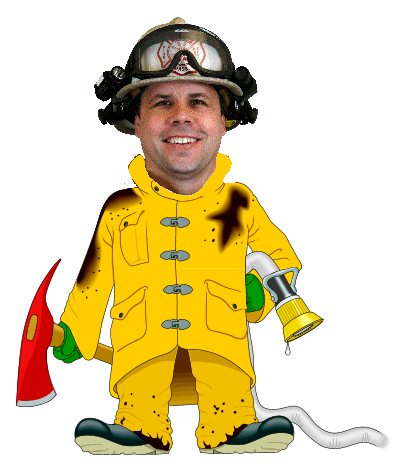 Your Carver Fire Department is a goal-orientated organization that prides itself in providing a superior level of service to our community at the lowest possible cost to each taxpayer.
The mission statement of the Carver Fire Department is "To be a leading Emergency Service Organization by meeting or exceeding the needs of our community in Fire Prevention, Fire Suppression, and Rescue Operations" and has become the benchmark from which our goals are derived each year.
We would like to thank the residents of Carver for your support during 2014.  We were able to achieve many of our goals over this past year, none of which would have been possible without your support.
The Town Fire Station Building Committee as well as several other Fire Department committees have been hard at work in 2014 designing our new Central Fire Station.  The members of these committees have donated thousands of man-hours to the design phase of the project in an effort to construct a building that we hope will reflect the unique character of our community while also providing the infrastructure, technology and training needs of our Department well into the future.  As residents ourselves, every decision has been made with the utmost care and consideration of the bottom line, never losing sight of our fiscal responsibility to our fellow taxpayers.  I would like to personally thank everyone that has been part of this project for their tireless effort and dedication.
The Carver Fire Department continues to be one of the lowest funded Fire Departments in the Commonwealth, at an annual cost of $476,000 or about $41 per resident.  The dedication of our 75 member team is at the center of our flourishing Call Firefighting System that was nationally recognized in 2008 as showcased in Firehouse Magazine, a National Fire Service periodical.  Our system has been used as a model for several Fire Departments across the country, something that we can all be proud of.
MILESTONES OF 2014
We continue to write and secure additional grant funds for replacement and additional equipment, securing 36 grants for over $1,066,000 in grant money for FY 06 – FY 15.
By design, we continue to be one of the lowest funded Firefighter Departments in the State, ($38/resident) with 1.3% of Town budget being directed to Fire Department.
Our Firefighters continue to refine and adapt the training props at our Training Facility to meet the evolving demands of the Fire Service in today's world.
We received additional grant funds and donations to purchase a brushfire / medical "skid unit" for Forestry 25. The unit has been installed and is in service.
We wrote and were awarded a FEMA grant for $116,000 to purchase new fire hose, nozzles, and appliances, department wide. The equipment has been purchased and installed, and is now serving our community.
We successfully hired and trained seven new Carver Firefighters.
We continue to be nationally recognized as a model for other Fire Departments across the country.
We manage and maintain a Professional Call Firefighting force that excels in regards to manpower for the critical daytime responses. Our daytime Call Firefighting force averages a 5.9 minute response time with 16 Firefighters on scene, statistics that we can all be proud of.
We successfully implemented several programs in an effort to remain proactive in the Recruitment and Retention woes that are plaguing Fire Departments across the nation.
We consider ourselves to be innovators of training. We continually explore and employ cutting edge practices in an effort to remain ahead of the curve in regards to training and personal safety.  We currently train all new Firefighters from the Hanover Fire Department and assisting in training many Firefighters from surrounding Fire Departments at our Training Facility.
We educated a record number of school children and Town residents in the subjects associated with Ice Safety, Fire Prevention and Home Fire Safety.
We successfully managed a new Engine Design Committee, Wage and Benefit Committee, I AM RESPONDING Committee, Photo Team Committee, Fire Station Committee, and Accountability Committee. All of these Committees are TEAM oriented and focused on staying proactive in maintaining a Call Firefighting System.
Please join us in congratulating Captain Carl Santos on his recent retirement from the Carver Fire Department.  Carl served our community with PRIDE and dedication for over 43 years, 25 of them as the Captain of Company 1.  Carl left his mark on this Department and has set the example of the kind of Fire Service Professional that we should all strive to be.
Carl, please accept a sincere thank you from all of us at CFD for your 43 years of Loyalty, Dedication, Commitment, and most of all, your friendship.  We wish you health, luck and happiness in your retirement.
We would like to take this opportunity to thank the citizens of our community for your support and investment in the Carver Fire Department during the past year.  Your support matters and is appreciated by all of us here at CFD!
We would also like to thank Town Administrator, Michael Milanoski and all Departments and Boards of the Town for their cooperation and assistance over the past year.
We continually remind ourselves where we have come from, and those people before us that got us here!
Craig F. Weston
Fire Chief
Eric P. Germaine
Deputy Fire Chief