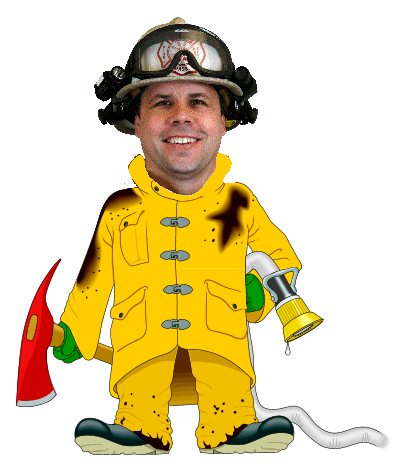 Your Carver Fire Department is a goal-orientated organization that prides itself in providing a superior level of service to our community at the lowest possible cost to each taxpayer.
The mission statement of the Carver Fire Department is "To be a leading Emergency Service Organization by meeting or exceeding the needs of our community in Fire Prevention, Fire Suppression, and Rescue Operations" and has become the benchmark from which our goals are derived each year.
Last year, one of our goals was to seek creative methods of funding for essential equipment needs.  Two of the more significant items being the purchase and implementation of our Res-Q-Jack Stabilization Equipment, where Firefighters raised over $8,500 dollars to purchase the needed equipment and the rehab of our new Rescue 2.  Firefighters spent over 500 hundred hours restoring a donated ambulance from Carver EMS, that will replace our current Rescue 2 with a more modern Year 2000 vehicle.
The Carver Fire Department continues to be one of the lowest funded Fire Departments in the Commonwealth, at an annual cost of $408,000 or about $34 per resident. Selflessness dedication of our 75 member team is at the center of our flourishing Call Firefighting System that was nationally recognized in 2008 as showcased in Firehouse Magazine, a National Fire Service periodical.  Our system has been used as a model for several Fire Departments across the country, something that we can all be proud of.

We continue to write and secure additional grant funds for replacement and additional equipment, securing 31 grants for over $800,000 in grant money for FY 06 – FY 12.
By design, we continue to be one of the lowest funded Firefighter Departments in the State, ($34/resident) with 1.3% of Town budget being directed to Fire Department.
We have completed an extensive communication upgrade project for Carver Police, Fire, EMS and DPW, funded through a $178,000 Communication Grant.
We successfully hired and trained 4 new Carver Firefighters.
We continue to be nationally recognized as a model for other Fire Departments across the country.
We aggressively enrolled 30 CFD Firefighters in National Fire Certification Programs.  Through the efforts of our Firefighter I/II Training Team, all 30 Firefighters have completed and passed their Certification Exams.
We continue to have one of the highest ratios of Nationally Certified Firefighters, Fire Officers and Fire Instructors of any Fire Department in the Commonwealth. Currently, we have 54 Firefighters certified to Firefighter I/II, 21 Fire Officer I, 13 Fire Officer II, 27 Fire Instructor I, 2 Fire Instructor II and 14 Fire Safety Officers.
We successfully manage and maintain a Professional Call Firefighting force that excels in regards to manpower for the critical daytime responses. We successfully maintain our Departments Daytime Call Firefighting force, averaging a 5.7 minute response time with 18 Firefighters on scene.
We continue to give minor facelifts to our Stations 1, 2, 3 and the Training Center at a very minimal cost.  New apparatus doors, windows and shutters were installed at our Station 1.  Firefighters donated their time to epoxy paint the apparatus floor at Station 3 and our Training Center Team installed a new roof and doors on the front training building and implemented many new training props and features at our Department Training Facility.
We successfully implemented several programs in an effort to remain proactive in the Recruitment and Retention woes that are plaguing Fire Departments across the nation.
We consider ourselves to be innovators of training. We continually explore and employ cutting edge practices in an effort to remain ahead of the curve in regards to training and personal safety.
We educated a record number of school children and Town residents in the subjects associated with Fire Prevention and Home Safety.
We successfully managed a Rapid Intervention Committee, Wage and Benefit Committee, I AM RESPONDING Committee, Photo Team Committee, Fire Station Committee, Brush Breaker Design Committee and Accountability Committee. All of these Committees are all TEAM oriented and focused on staying proactive in maintaining a Call Firefighting System.
Craig F. Weston
Fire Chief
Eric P. Germaine
Deputy Fire Chief