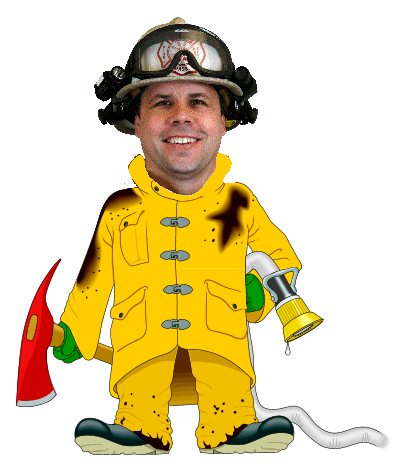 Your Carver Fire Department is a goal-orientated organization that prides itself in providing a superior level of service to our community at the lowest possible cost to each taxpayer.
The mission statement of the Carver Fire Department is "To be a leading Emergency Service Organization by meeting or exceeding the needs of our community in Fire Prevention, Fire Suppression, and Rescue Operations" and has become the benchmark from which our goals are derived each year.
First of all, I would like to offer my sincere appreciation for your supportive vote at the Special Fall Town Meeting for the construction of a new Central Fire Station and Training Facility.  When completed, it will mark a milestone within our Department, moving us forward by providing state of the art working conditions and technology, increasing Firefighter moral, while allowing our unique and proven firefighting system to excel for years to come.  To date, the Board of Selectmen have recently allowed the Town Administrator to appoint a Fire Station Building Committee for the construction of the project.  I remain hopeful that by the time of Town Meeting, we will have made good progress in the planning of the facility.  Again, thank you very much!
This year, a team of Officers/Firefighters spent over 500 hours of donated time in many Committee meetings to design new fire engines that would last us another twenty years of service in the future.  Firefighters/Mechanics also worked to rehab our 1989 Maxim Tanker 1, acquired and placed in service our new Polaris Ranger (Forestry 25) all terrain vehicle and made many modifications to our Fire Department Training Facility.  As Chief of the Department, I am very proud of the continued unselfish dedication our team provides to the community!
The Carver Fire Department continues to be one of the lowest funded Fire Departments in the Commonwealth, at an annual cost of $462,000 or about $38 per resident.  The dedication of our 75 member team is at the center of our flourishing Call Firefighting System that was nationally recognized in 2008 as showcased in Firehouse Magazine, a National Fire Service periodical.  Our system has been used as a model for several Fire Departments across the country, something that we can all be proud of.
MILESTONES OF 2012
We continue to write and secure additional grant funds for replacement and additional equipment, securing 35 grants for over $950,000 in grant money for FY 06 – FY 14.
By design, we continue to be one of the lowest funded Firefighter Departments in the State, ($38/resident) with 1.3% of Town budget being directed to Fire Department.
Our Firefighters completed in-house rehab of Fire Department Training Facility maze building, constructed homemade vehicle fire and dumpster fire training props.
We completed a rehab of our 1989 Maxim Tanker 1 at a very low cost.  Most work done in house by Firefighters and DPW Mechanics.
We received delivery our new replacement Brush Breaker 27 and replacement Command Car 1.  Both vehicles have been placed in service.
We successfully secured grants and donations to acquire a Polaris Ranger 6X6 UTV and aluminum trailer.  The vehicle has been outfitted, placed in-service and been utilized in four rescues since implementation.
We successfully hired and trained five new Carver Firefighters.
We continue to be nationally recognized as a model for other Fire Departments across the country.
We successfully manage and maintain a Professional Call Firefighting force that excels in regards to manpower for the critical daytime responses. We successfully maintain our Departments daytime Call Firefighting force, averaging a 5.8 minute response time with 16 Firefighters on scene.
Our Department Honor Guard was invited to Fenway Park to present the colors during the National Anthem at a Red Sox game.
We successfully implemented several programs in an effort to remain proactive in the Recruitment and Retention woes that are plaguing Fire Departments across the nation.
We consider ourselves to be innovators of training.  We continually explore and employ cutting edge practices in an effort to remain ahead of the curve in regards to training and personal safety.  Currently train all new Firefighters from the Hanover Fire Department and assisting in training many Firefighters from surrounding Fire Departments at our Training Facility.
We educated a record number of school children and Town residents in the subjects associated with Ice Safety, Fire Prevention and Home Safety.
We successfully managed a new Engine Design Committee, new Fire Hose Committee, Wage and Benefit Committee, I AM RESPONDING Committee, Photo Team Committee, Fire Station Committee, and Accountability Committee.  All of these Committees are all TEAM oriented and focused on staying proactive in maintaining a Call Firefighting System.
We would like to take this opportunity to thank the citizens of our community for your support and investment in the Carver Fire Department during the past year.  As you are aware, our community is feeling the negative effects of a struggling economy, from each individual citizen up to and including your Town government departments. Unprecedented budget shortfalls threaten to affect the levels of service that individual departments can provide.
Craig F. Weston
Fire Chief
Eric P. Germaine
Deputy Fire Chief