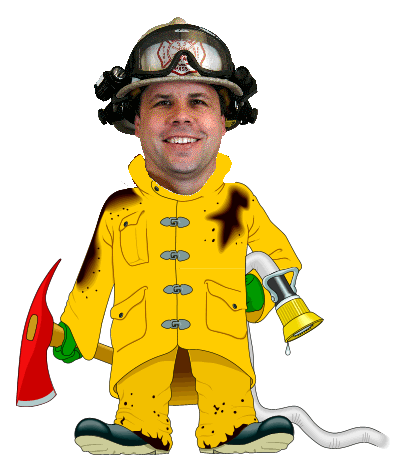 Your Carver Fire Department is a goal-orientated organization that prides itself in providing a superior level of service to our community at the lowest possible cost to each taxpayer.
The mission statement of the Carver Fire Department is "To be a leading Emergency Service Organization by meeting or exceeding the needs of our community in Fire Prevention, Fire Suppression, and Rescue Operations" and has become the benchmark from which our goals are derived each year.
We would like to thank the residents of Carver for your support during 2018!
2018 has been a year of accomplishments for our Department. We officially put in service our newly rehabbed Brush Breaker 26, graduated six new Carver Firefighters utilizing our new training facility, promoted six new Fire Officers and mitigated fire emergencies within the community averaging a 5.2 minute response time. These accomplishments don't just happen by themselves, but come from the support of our community and hard work from the Officers and Firefighters of your Fire Department.
The Carver Fire Department continues to be one of the lowest funded Fire Departments in the Commonwealth, at an annual cost of $644,000 or about $56 per resident. The dedication of our 85 member team is at the center of our flourishing Call Firefighting System that has been nationally recognized. Our system is continuously used as a model for several Fire Departments across the country, something that we can all be proud of.
MILESTONES OF 2018
Over 30 CFD Officers and Firefighters achieved high-level Firefighter and Officer National Certifications
Responded to over 80 fire incidents during the four day March storms, averaging a 4 minute response time
Our Dive Team achieved a Public Safety Dive Team Certification, plus with help for our community, procured new diving dry suits and upgraded dive equipment for the team
Rehabbed our 1991 Brush Breaker 26 to meet today's standard for fire apparatus
Put our new Squad 1 in service, driven by Assistant Deputy Jesse Boyle
Promoted six new Fire Officers within our Department
Successfully hired and trained six new Carver Firefighters. We currently have 5 new Firefighters in training to join our team.
Organized and hosted our largest wildfire exercise to 14 communities with over 200 Firefighters in attendance
We continue to be nationally recognized as a model for other Fire Departments across the country
We manage and maintain a Professional Call Firefighting force that excels in regards to manpower for the critical daytime responses. Our daytime Call Firefighting force averaged a 5.2 minute response time with 19 Firefighters on scene, statistics that we can all be proud of.
We consider ourselves innovators of training. We continually explore and employ cutting edge practices in an effort to remain ahead of the curve in regards to training and personal safety. Training classes ranged from the live Structure Fire training at our modern Training Facility, Rapid Intervention training, Cancer in the Firehouse seminar, Safety Officer Driving Drill, numerous Dive Drills and Officer Command Simulator training.
By design, we continue to be one of the lowest funded Firefighter Departments in the State, ($56/resident) with 1.9% of Town budget being directed to the Fire Department
We educated a record number of school children and Town residents in the subjects associated with ALICE, YPAC, Fire Prevention, Babysitter and Home Fire Safety
We successfully managed a new Personal Protective Equipment (PPE) Committee, a Fire Tanker Committee, a Dive Team, an Honor Guard and a Photo Team Committee. All of these Committees are team oriented and focused on staying proactive in maintaining a Call Firefighting System.
This year, our Department lost some great friends.
Retired Firefighter Joe Peck: Joe served the Carver Fire Department with loyalty, dignity and pride from 1971 to 2011, serving as a Firefighter of Company 2
Retired Captain Lenny Roby: Lenny served the Carver Fire Department with loyalty, dignity and pride from 1957 to 1996, serving as a Captain of Company 1
Retired Firefighter Ted Young: Ted served the Carver Fire Department with loyalty, dignity and pride from 1966 to 1991, serving as a Firefighter of Company 3.
Joe, Lenny and Ted will be missed dearly by all, but their passion for the Carver Fire Department will live on in all of us.
I am extremely proud of the PRIDE and professionalism of each of our Officers and Firefighters in the performance of their duties in 2018. Their unselfish sacrifice, dedication, and loyalty are matched only by that of their families, as they to sacrifice every time our Firefighters are called to duty. I recognize the stress that this causes on their families and I am forever grateful for their support in allowing each one of our Firefighters to respond to help someone in their time of need.
We would like to take this opportunity to thank the citizens of our community for your support and investment in the Carver Fire Department during the past year. Your support matters and is appreciated by all of us here at CFD!
We would also like to thank Town Administrator, Michael Milanoski and all Departments and Boards of the Town for their cooperation and assistance over the past year.
We continually remind ourselves where we have come from and those people before us that got us here!
Respectfully submitted,

Craig F. Weston
Fire Chief

Eric P. Germaine
Deputy Fire Chief

Jesse Boyle
Assistant Deputy Fire Chief