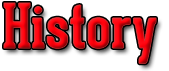 Former Carver Fire Chief Robert C. Williams (left) and late Carver Fire Chief Francis Merritt (right) are pictured in front of the old Station 2 located on Plymouth Street. On the left is the old Carver Engine 2 a 1974 Ford/Farrar 750 gpm pumping engine and on the right is the old Carver Engine 2 a 1942 Ford/Maxim 500 gpm combination pumping Engine/brushbreaker.
The history of the Carver Fire Department is currently being compiled please check back in the near future for changes and updates to this page. In the meantime, we have assembled the following pictures that showcase some our our Fire Departments History – Enjoy!

 Retired Apparatus
Pictures of The Carver Fire Department's Retired Apparatus
 Forest Fire May 8,1957
The above picture of the great forest fire of 1957 was extracted from news film shot by WBZ-TV Channel 4 Photographer Nat Whittemore. The fire started near the corner of Cranberry Road and West Line Road on the Carver side of the Myles Standish Reservation at about 3:00 pm on May 8th. By the time the fire was declared under control at 8:39 pm on May 10th, the fire had reached the Atlantic Ocean some 12 miles from where it started, consumed 18,000 acres, 50 structures, and had a 35 mile perimeter! More than 2,500 firefighters from 64 communities fought the blaze.
1957 Forest Fire Video Download
Daniel F. Schlecht Memorial Dedication
Daniel F. Schlecht was a firefighter. He was a member of the Carver Fire Department. He was disciplined and committed. He served unselfishly and with dignity. He brought pride and strength to his family. He lost his life while responding to a call of duty. On this day we remember his sacrifice in a special way. He carried with him the values of his country, his community, his comrades, and his family. He gave us faith that there is hope for a world when one such as he would give his life for others. It is thus, in his memory that WE DEDICATE THIS MEMORIAL
Retired Chief Pete Williams Photo Album of Edaville Railroad Fire