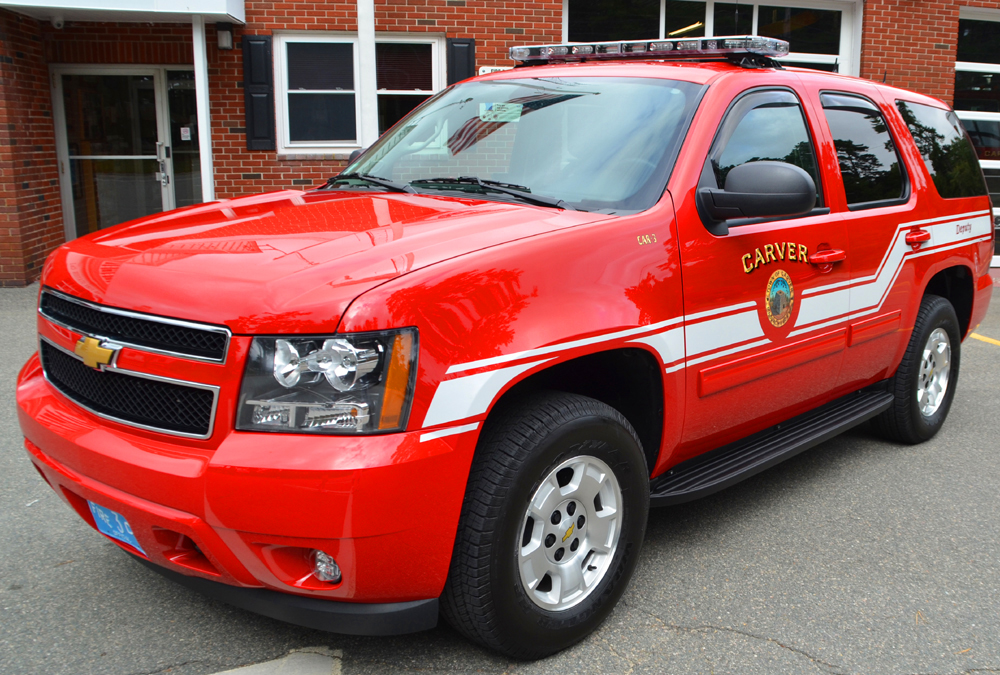 Carver Car 3, now reassigned to Station 1 is utilized to tow our Rescue Boat (Marine 1), Firefighter Details and Training Courses and as a reserve Command Car. Car 3 is a 2013 Chevy Yukon 4 X 4 Command vehicle.
The vehicle is equipped with a custom Admiral front radio console housing two Motorola CDM 1550 radios, a Bearcat BCT15X scanner with remote rear scanner head, built in navigation and rearview camera system, hands free phone system, onboard laptop for mapping viewing our "I AM RESPONDING" system and a Whelen Cencom Gold light and siren controller.
A new custom rear command console was built and installed to house two CDM 1550 mobile radios, portable chargers, portable battery chargers, thermal imager camera, SCBA pak, survival suit, remote radio scanner, remote land line phone system, 1,500 watt inverter, LCD computer monitor, 4 and many, many more pieces of life safety equipment.
All of the emergency LED lighting was installed by Cubby Emergency Lighting at Carver Fire Headquarters. The Whelen lighting package includes a Whelen liberty light bar with built in opti-com system and LED takedown and alley lights, a rear Dominator 8 super LED light bar, driver and passenger side Avenger LED lights, blaster red hideaway lights, a wig-wag system, OS Series running board lights, LED red fog light kit, 100 watt siren and speaker system and many more red and white LED hideaway lights all controlled via a Whelen Cencom Gold controller.