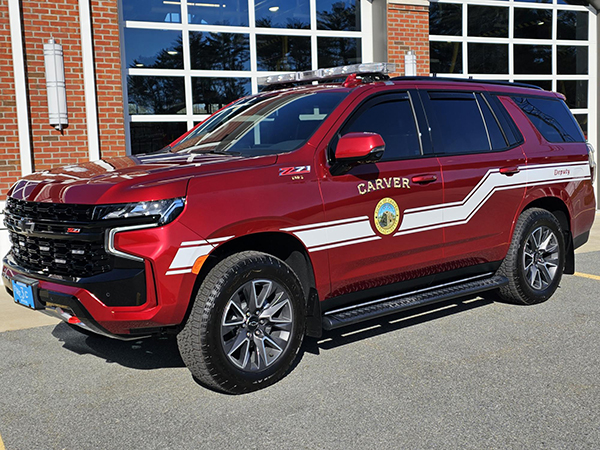 Our new 2023 Command Car, assigned to Deputy Eric Germaine, is now fully in-service. Many hours of hard work have gone into the design and installation of our new 2023 Chevy Tahoe Command Vehicle.
The vehicle is equipped with a custom Havis VSX front radio console housing two Motorola APX 6500 radios, an APX 6000XE portable radio and charger, a Bearcat BCT15X scanner with remote rear scanner head, built-in navigation and rearview camera system, hands-free phone system, onboard laptop for mapping and viewing our "I AM RESPONDING" system and a Whelen Core light and siren controller.
A new custom rear command console was built and installed to house two APX 6500 mobile radios, an APX 6000XE portable radio and charger, SCOTT Sight thermal imager camera, SCBA pak, a survival suit, 4 gas meters, remote radio scanner, a remote landline phone system, remotely operated 2,000-watt inverter, 19″ LCD computer monitor, 27″ 4K Samsung monitor, a DJI MIni 3 Pro drone, and many, many more pieces of life safety equipment.
All of the emergency LED lighting was installed by Cubby Emergency Lighting at Carver Fire Headquarters. The Whelen lighting package includes a Liberty 2 light bar with built-in opti-com system and LED takedown and alley lights, a rear Whelen edge LED light bar, driver and passenger side LED lights, LED running board lights, LED red fog light kit, 100-watt siren, dual whelen howlers and speaker system and many more red and white LED hideaway lights all controlled via a Whelen Core controller. Internet access is via a Cradle Point satellite/LTE/WiFi receiver.
This vehicle was designed to serve our Department for at least ten years. Our original 2013 Command Car 2 has been re-assigned to Station 1 to be used to tow our Rib Craft Rescue Boat, Department details and for Firefighters attending training courses out of Town.