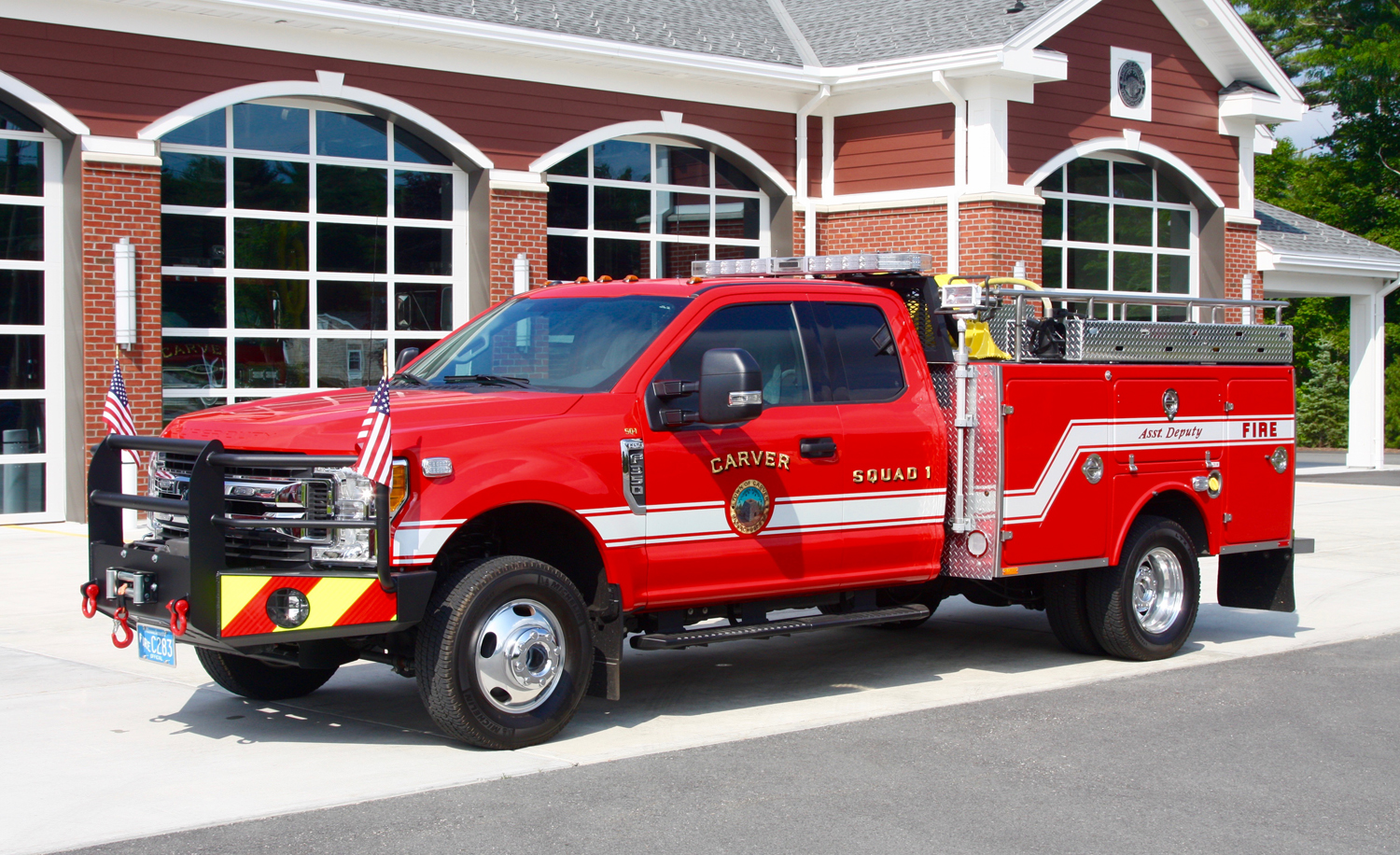 Carver Squad 1 is a 2017 Ford F-350 4×4 Type 6 Forestry truck, built by BFX Fire Apparatus, and designed in conjunction with Carver Fire Department. Squad 1 is assigned to Assistant Deputy Boyle.
This vehicle is classified as an "All Risk/All Hazard" response vehicle, designed to fill a gap between existing command vehicles and front line apparatus. Many facets of our fire department's functions are included in the design and layout of Squad 1; including but not limited to – Incident command, forestry/brush fire operations, safety, hazardous materials, search and rescue, fire suppression & overhaul, and code enforcement & fire prevention. The truck will be more than capable of towing CFD's variety of trailers, including our tandem axle Safe House Fire Prevention trailer. Squad 1 is a versatile piece of equipment that will fill a tactical role for emergency response, incident support, and administrative duties. This unit will not alter the order or guideline in which our existing apparatus respond.
BFX Fire Apparatus worked closely with CFD to design a unique vehicle custom tailored to meet the needs of our community. The fire body itself utilizes a composite construction, which weighs up to 40% less than typical materials. The composite material will not rust or corrode, and is built to meet the demands of off-road wildland firefighting. The Ford cab is constructed of high strength aluminum alloy, which combined with the composite fire body makes for a lightweight vehicle capable of carrying extensive equipment with ease.
Inside the cab you'll find a custom center radio console built by Troy Industries. Dual Motorola APX 4500 mobile radios ensure reliable first class communication capabilities. Also mounted in the cab is a Uniden Bearcat BCT15X radio scanner, Whelen light and siren controller, Class 1 ES-Key switch panel, and Lenovo Think Pad lap top computer. The computer is equipped with detailed proprietary Carver mapping software, and "I Am Responding," a web based tracking system that identifies when firefighters are responding to incidents.
The bed of the truck contains a removable 200 gallon water tank with a 125 GPM pump, and 200' of 1" forestry hose. At CFD's request, BFX Fire was able to custom design a compact tank that allowed for a great deal of cargo capacity.
Squad 1 carries a wide variety of equipment, including fire extinguishers, SCBA, AED, Mustang Ice Rescue suit, hand and power tools, lighting, chainsaw, forcible entry & overhaul tools, mobile command post, 2000 watt AC power inverter, 4-Gas meter, and much more.
The warning and scene lights are by Whelen Engineering. A Class 1 ES-Key Supernode multiplex system efficiently controls all of the vehicle's electrical components.
Carver Fire installed many unique custom features and modifications during the final outfitting and assembly phase following receiving the vehicle from the manufacturer.