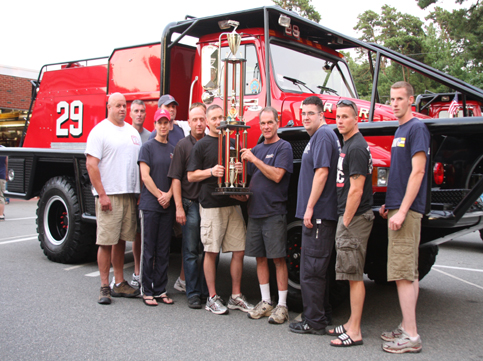 Firefighters from Company 2 pose with their newly won trophy in front of Brush Breaker 29, this year's winner! (Left to right – Captain Mike Harriman, Firefighters Alan Anderson, Kris Durling, Stephen Doherty and son Finn, Lieutenant Vinny Nocera, Firefighters Mike Wall, Steve Falconer, Tim Dunham, Josh McDermott and Andrew Cole. (Photo's by the Carver Fire Photo Team)
Members of the Carver Fire Department participated in our 9th Annual Fire Apparatus Competition held at our Central Fire Station. What is an apparatus competition you may ask? Well, the event is organized by Association President and Firefighter, Bob Middendorf, with the event challenging the three Firefighting Company's to present the cleanest fire apparatus. This year the fire apparatus was the Brush Breakers. The Breakers were judged on all facets of interior and exterior appearance. Many man hours (and woman hours) of labor are volunteered by the Company members to out-do the other ends of Town. Each Company is given about $100 that is used to buy supplies in order to spruce up a piece of fire apparatus in preparation for judging.
Each Company had to wash, wax, paint, detail, buff (you name it), to compete against the other two Brush Breakers in Town. The assembly point was at Central Station, where guest judges were brought in to decide the winner. This year's judges included Retired Duxbury Fire Chief, Bill Harriman, Retired Carver Deputy, Mark Weston, Retired Carver Firefighters, Glen Kennedy and Lenny Roby, Deputy Eric Germaine and myself, C1. All the Breakers arrived at Station prior to 6:30 pm where a pizza party ensued and the judging could begin. Our judges put on the white gloves, climbed over and under, inspecting all aspects of each Breaker.
Last year's winner was Company 3 with the best appearing Engine. This year, Captain Matt Sears of Station 3 had to hand over the four foot trophy to Firefighter Kris Durling of Station 2. Yup, Brush Breaker 29 of Company 2 was the best appearing Breaker in this year's competition!
I am very proud of the work and pride our Firefighters and Officers put into their apparatus. These are not new fire trucks, but ones that operate in a wooded environment, scraping against trees, climbing over brush, in order to be aggressive in putting out wild fires and protecting our residents and their land. You would never know that these Breakers are 20 years old, 13 years old and 12 years old.
Our annual apparatus contest is geared to creating comradere among Firefighters, while maintaining a longer life span for the equipment our Town has bought to protect our residents. Overall, this year's competition was a success with all three Carver Brush Breakers looking almost brand new! A big thank you to all Firefighters that participated and our guest judges. We had some good looking trucks along with a lot of laughs!