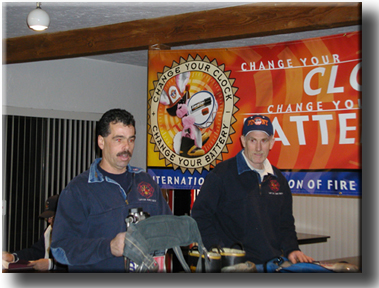 By Mary Julius, Enterprise staff writer
As Carver Fire Chief Dana E. Harriman walked through the charred timbers at a fatal mobile-home fire last week, it reminded him of the importance of talking about fire safety to all mobile-home residents.
"Mobile homes tend to be more energy efficient than conventionally built homes and, while that saves money and energy, unfortunately when a fire occurs it also keeps that heat and smoke inside," Harriman said.
On Monday, Antonio J. DeSiata, 78, died in a fire in his mobile home in Carver's South Meadow Village. It was the fourth fatal mobile-home fire in the area since November. The fire was ruled accidental, but the exact cause has not been determined.
"There was a plumber's torch near the body and a drop light," Harriman said. "They certainly were two potential ignition sources." It is believed DeSiata had been repairing a pipe under the kitchen sink, Harriman said.
Because of the number of residents who live in Carver's five mobile-home parks, firefighters decided last year to develop a fire-safety program specifically for them. There are about 3,000 mobile home residents in Carver, Harriman said.
"It was an area of fire prevention we hadn't targeted," Deputy Fire Chief Craig Weston said. "We tend to be proactive in the schools, but we seldom went into mobile-home parks. We wanted to go to them instead of having them coming to us."
Weston asked the state Department of Fire Services if they offered a fire-safety program specifically for mobile-home owners. "They did not," Weston said.
So call firefighter Bill Piper created the town's own program.
"We brainstormed until we came up with the ideas we wanted, then Bill put it into a power-point production," Weston. "Then we put together a fire-prevention team that would specialize in helping to develop and teach this mobile-home program."
Firefighters worked on the plan from September to January and gave the first presentation in January. The firefighters are hoping to reach as many mobile-home park residents with their message as possible.
"It could save a life," Piper said. "It's one less call we might have to go on some day."
So far the firefighters have given the hour-long presentation at South Meadow Village and Meadow Woods.
"The next program will be March 31 at Waterview Village," Piper said. "We plan to do it at all the mobile-home parks."
In February, when an 81-year-old woman died in a mobile home fire in Halifax, Harriman told Halifax Fire Chief Lance M. Benjamino about Carver's program and offered to share it with them.
"They've put together a very good program," Benjamino said. "We would like to utilize it and combine it with a program of our own. We're planning to give our own presentation by the summer."
Halifax has about 500 residents in Halifax Mobile Home Estates and other scattered mobile homes, Benjamino said.
"Mobile homes often have smaller rooms where heat can build up fast and fire can grow more quickly," Benjamino said.
In Carver, firefighters use the program to touch on safety issues for mobile-home owners. They include:
Inspect regularly the heat tape often wrapped around water pipes under mobile homes. "It wears out and can create an arc and ignite fire under a home," Piper said.
Keep hallways and door areas clear of potential obstacles, such as hampers, washers and dryers.
Never pinch extension cords and minimize the number of electrical items plugged into them at one time.
Know how to escape quickly and safely in the event of a fire or other emergency.
Smokers should use a deep-dish ashtray with a center rest so a falling cigarette lands inside the ashtray.
Change batteries in smoke detectors regularly, and have a battery backup to hard-wired detectors.
Know how to use a fire extinguisher and the proper way to call 911 on a cell phone.
Use oxygen devices with extreme care. An oxygen tank recently blew up a mobile home in Carver.
Be very careful with space heaters. Never put anything over them to warm, always unplug the heaters before going to bed and use one with a switch that shuts the unit off if it tips over.
Put screens or doors on fireplace openings.
Make sure the mobile home has a clearly visible house number.
Clear debris from under decks and brush from around the mobile home. "We recommend putting quarter-inch mesh screening under a deck to keep it clear," Piper said.
Other firefighters who volunteer their time to present the program include David Buker, Robert Vestute, Jared LeBarnes, William Gilbert, Alan Dunham Jr., Josh McDermott, Thomas Fitzgerald, Michael Loughran and Frank Nye.