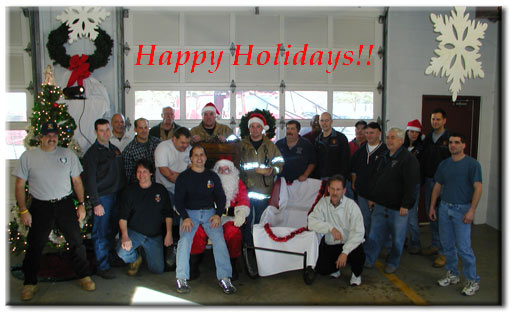 Front Row – Mark Brown, Bob Vestute, Eric Weston, Craig Weston, "Santa", Mark Whittemore, Rick Leopardi, Tom Fitzgerald
Back Row – Jesse Boyle, John Fein, Steven Weston, Jerry Vaughn, Bob Middendorf, Eric Germaine, Bob Thibodeau, Carl Santos, Matt Sears, Mark Weston, Chris Mahoney, Kristen Durling and Mark Durling
Twas 2 weeks before before Christmas, at Central Firehouse,
Everyone was stirring, even the Macintosh mouse.
Decorations of snowflakes, lights and a tree,
Made the Station look festive, even the floor was grease free.
Captain Santos was smiling, Lieut. Weston was too,
If the whistle blew now, they had a great crew.
French toast and some sausage, a breakfast they had,
They all had their fill, their belly's were glad.
Next the children did crafts, decorations they made,
They really enjoyed it, and after they played.
Eating cookies and enjoying cranberry juice drink,
Then C1 looked at C2, and gave him a wink.
27 was dispatched to a detail they said,
Something about a broken down sled.
Then the radio it crackled and Bob Vestute did say,
Sleigh 27 has Santa, and is now on the way.
When out in the street they heard a siren,
Kids ran to the door and started to scream.
Air horns were blaring, clearing the way,
For Brushbreaker 27, being used as a sleigh.
Sleigh 27 pulled up all shiny and red,
On the back was a white haired guy, a red hat on his head.
The hose bed was full of presents with bows,
For the children of Carver's volunteer heroes.
Santa was in red, from his head to his foot,
He kinda looked like Lt. Telless all covered with soot.
He had a round face and a little round belly,
That shook when he laughed, like a bowl full of jelly.
He proceeded to give out the presents to the all,
No one was forgotten, they all had a ball.
The children were smiling, parents as well,
They enjoyed the festivities, to all this we tell.
And then he was off in 27 sleigh he did go,
To prepare for this Christmas and possible snow.
We owe our thanks to 137, for he is the one,
Who along with his helpers, made this so much fun.